Porch Magic was created in Minneapolis in August of 2000. James Buum and Collin Kritzer, both from Waseca, and Josh Benson, from Scandia, became friends during their sophomore years of school at the University of Minnesota and St. Thomas. Upon meeting over many cocktails at Josh's homemade bar inside a duplex on Como Avenue, James and Collin wanted to create a band but were missing a couple crucial elements. Josh had mentioned that he enjoyed music, played piano, and sang a little while growing up. James played guitar and Collin played bass. The trio figured they would start a band. Fellow Wasecan James Roslansky had experience drumming as a result of many years in marching band drumline. With all four parts in place, Porch Magic was born.

The guys spent and currently spend a lot of time at the house at 524 Ontario Street in Minneapolis. All four members of the previous band lived their at one time. James currently \resides at the "M" house, a name given to thehouse after the large M representing the University of Minnesota sports teams was attached to the front of the house by James Roslansky years before. The guys realized they needed a name for the band.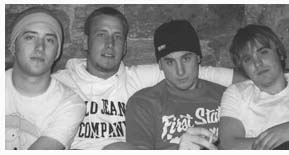 While sitting on the porch looking at a banner that was left at the house years ago, the guys saw "porch magic" printed on the banner explaining an upcoming party. The name made sense since the band alwayshung out on the porch and have witnessed many magical and intoxicating moments there.
Porch Magic took the money they had to purchase some gear. Rehearsals for the band are held in the basement of the M house, and havealways been since the creation of the band. While the area is tight, Porch Magic made it work and never complained, well, maybe a little. Dealing with time constraints, James Roslansky was forced to leave the band but the band found a replacement almost immediately in Chad Oftedahl. "Wall" is also from Waseca and currently remains the drummer for Porch Magic. After landing their first gigs at Meister's Bar and Grill in Scandia, MN and Katie O'Leary's in Waseca, Porch Magic was on the path to the Twin Cities music scene.

The band is going strong in 2002. They have made it into the Twin Cities playing such bars as Mr. Patom's, Plum's, Bunkers, Bogart's, Diamond's Sports Bar, and many other bars in and around the Twin Cities. After the release of their debut CD "Porch Magic" in April 2002, the band currently is playing shows around Minnesota and Iowa to help promote their music.